What:
Women's Basketball vs. St. John's
Where:
Gampel Pavilion
When:
Saturday, February 18, 7:00 PM
Result:
Loss, 55-54
This was the Senior Night game, and Tiffany Hayes was honored before the game along with eight student managers. Which begs the question - why do they have eight
senior
student managers? Were they all freshmen together? Will we have all eight new student managers next year? Or do we also have eight managers from all other classes, for a grand total of 32? And if so, WHY? I don't know. Seems strange.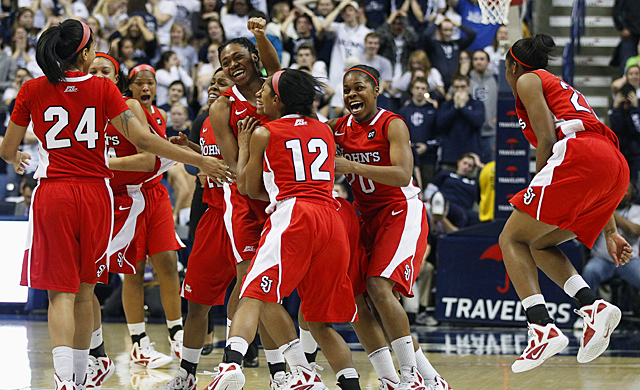 Jubilation for the Red Storm but
disappointment for the Huskies.
But the real shock was the game. St. John's played well throughout, keeping it close, and led 34-32 at halftime. The fans were in shock. Could we lose at home, and to St. John's nonetheless? Well, we did. It was 54-52 late. St. John's had the ball off a timeout. They inbounded it, kicked it out for a three, and made it! 55-54, UConn women losing at home. Whoah. An the arena was stunned. About 5 seconds left. We got it down the court, and kicked it out for a three, which we missed. We probably didn't get it off in time anyway. But it doesn't matter.
Well, this is disappointing. You've got to feel sorry for Tiffany Hayes. She
never
lost at home. And on Senior Night, she did. Well, I sort of predicted this. When I looked at the schedule before the season, I thought we would lose on Senior Night. Of course, I thought the Notre Dame game in Hartford next week was Senior Night. But I was still right (sort of). Meh. Not happy about it.
So, it was an 0-4 weekend in games I was at. Pretty bad. But I did manage to attend three games in one day, something I haven't done before.