Note: Info on College Gameday will be included in the post about the Syracuse basketball game, to be released soon
What:
Women's Lacrosse vs. Quinnipiac
When:
Saturday, February 25th, 2012, 1:00 PM
Where:
George J. Sherman Family Sports Complex
Result:
Win, 18-6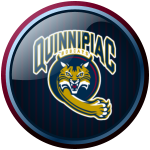 The Bobcats lost 18-6 to
the Huskies, who looked
far superior.
I'd never been to a women's lacrosse game before Saturday. I'd always found a reason not to go to the couple game I would have been able to go to. But Saturday, I went. I got out of Gameday at noon, ate lunch at the Student Union, and walked across the street to Sherman to watch lacrosse. There were about 17 minutes until starting time when I got there.
Well, I had no idea what to expect and honestly didn't know what was going on half the time. But we won 18-6, behind six goals from M.E. Lapham, which is good. We are now 2-0 on the season. One thing about the game - it was very windy. 50 mile per hour gusts blowing from north to south appeared to fluster whichever goalie happened to be at that end. That's how we wound up 11-1at halftime. But then Quinnipiac only was outscored 7-5 in the second half. The wind.
There was also some man up in the bleachers with a microphone making sound effects. I didn't know you could do that. I believe he's a parent or something, but I'm not certain. In any case, if you happen to be reading this, post here and let us know. You're awesome. Well, at least we won this game. The same cannot be said about the Syracuse game. Watch for the post on that in a few minutes.