I'm keeping this post short because I'm busy with midterms. Starting with Gameday, I'll be able to say a lot more.
What:
Men's Basketball vs. Marquette
Where:
XL Center
When:
Saturday, February 18, 12:00 PM
Result:
Loss, 79-64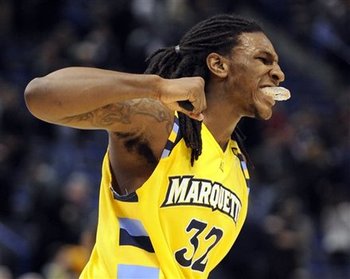 Really disappointing loss for the Huskies. I was sort of expecting it, but it still hurt. Our defense looked absolutely pathetic, and really, we're lucky it wasn't worse. We were missing shot after shot while letting the Golden Eagles get back in transition and make baskets. No excuse. No excuse whatsoever.
This was the second of four games I saw this weekend, all losses. Just terrible. I can't believe it. And it was the first of three games on Saturday I saw, the first time I've done that in one day. I got back from XL and immediately headed over to Frietas for the women's hockey game. More on that later.
But this is a poor showing. Gameday is the next home game for the men. ESPN will be here, with a show before. That should be fun. Tomorrow we head to Villanova. We'd better win that contest. And hopefully we beat Syracuse as well, although I wouldn't count on it. We could be looking at the NIT if we lose more than two more games this season. That would be embarrassing. Let's hope it doesn't happen. Especially since we're probably getting a postseason ban next year. That would mean no NCAA Tournament for two consecutive years if we miss out this year. We'd better make it.