Recently I made a post about the UConn baseball schedule. Below is an updated form, with some updates.
According to someone I received an email from a reader of this blog, here is a complete (but unofficial) UConn baseball schedule for 2012. It was apparently distributed at the Alumni Baseball game a few weeks ago. After it, you will find some comments by me.
Preseason Tournaments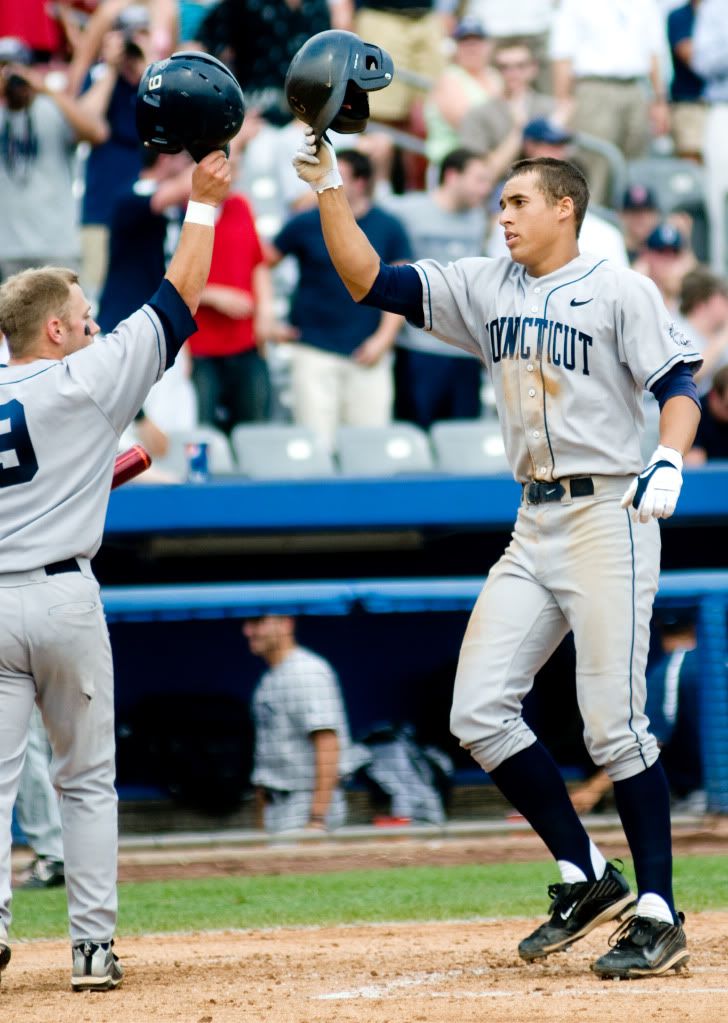 Feb 17-19 at Clearwater...Purdue, Ohio State and Indiana
Feb24-26 at College of Charleston Xavier, C ofC, Rhode Island
Mar 3-5 at Miss State ..against Lipscomb(Sat), Lipscomb and Miss State (Sunday), Miss State (Monday)
Mar 9-11 at Oregon (Nike Showcase) Oklahoma (9th), Oregon State(10th), Illinois(10th) and Oregon(11th)
Mar 16-18 at Coastal Carolina Coastal, Michigan and UAB
Regular Games (Big East Games have a *)
Mar 13 at Sacred Heart (Harbor Yard, Bridgeport)
Mar 21 Yale, 3:15 PM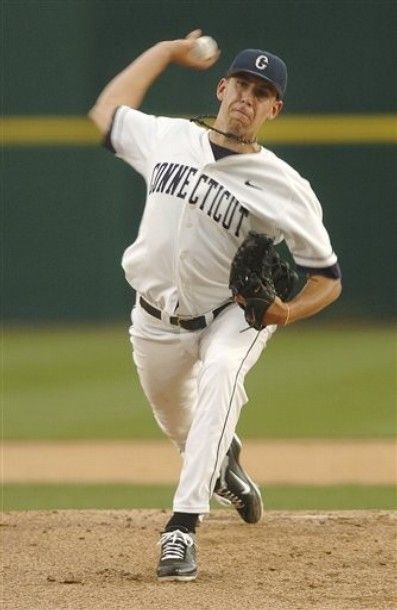 The Huskies no longer have George Springer
(first photo, right) or Matt Barnes (above)
but will look to repeat as Big East regular
season champions and reach the
NCAA Tournament.
Mar 23-25 at WVU *
Mar 27 Hartford
Mar 28 CCSU
Mar 30-Apr 1 Seton Hall *
April 2/Apr 25 at UMass (see below)
Apr 3 at Boston College
Apr 5-7 at Pitt * (Thurs and Fri - 3:00 PM, Sat - 1:00 PM)
Apr 9 at Quinnipiac, 3:00 PM
Apr 11 at Brown, 3:15 PM
Apr 13-15 at St John's *
Apr 17 at Fairfield, 3:00 PM
Apr 18/May 9 Northeastern (see below)
Apr 20-22 Rutgers *
Apr 24 Bryant, 3:30 PM
Apr 27-29 at Louisville * (Fri - 6:00 PM, Sat and Sun - 1:00 PM)
May 5-6 Cincinnati (DH on 5th at Norwich or Dodd) *
May 11-13 at USF *
May 15 vs. URI at Dodd Stadium, 11 AM
May 17-19 Notre Dame (17th and 18th in New Britain or Norwich) *
May 23-27: Big East Tournament, Clearwater, Florida
My Thougts:
From the last game of the Seton Hall series on April 1st until we host Northeastern on April 18th, we do not have a single home game. Additionally, from March 24th until April 14th, our women's lacrosse team does not have a single home game. (I said this yesterday). I wonder if this is intentional or not. Probably not.
A game at Sacred Heart on the 13th that is listed on Sacred Heart's schedule is not listed here. I'm not sure if this is a mistake on Sacred Heart's schedule or ours or if the source simply forgot to include it. This was an error by the source. He confirmed this.
The two Big East teams who we do not face are Georgetown and Villanova, the two worst teams from last year.
I'm not sure if the Cincinnati DH is the only game(s) in Norwich/New Britain. I've heard other reports saying we may play one game vs. Rutgers and/or Notre Dame there. Update: It appears we are playing the Irish in New Britain or Norwich on the 17th and 18th. The game on the 19th will be in Storrs.
Our last home game during the academic year is April 24th vs. Bryant.
UConn typically releases their baseball schedule very late, so don't expect them to release this via a press release for at least another month.
Of course, it's unofficial at this point as well.
Edit from before:
The
Northeastern schedule
shows the game between us as being on May 9. I cannot confirm which is correct. We will see. It is possible that they moved it to May 9th to add another game on the 18th. We'll see. Schedule should be officially released within the soon future.
Update 2 (11/27):