Internet is finally back here! And we've got a very busy sports week coming up...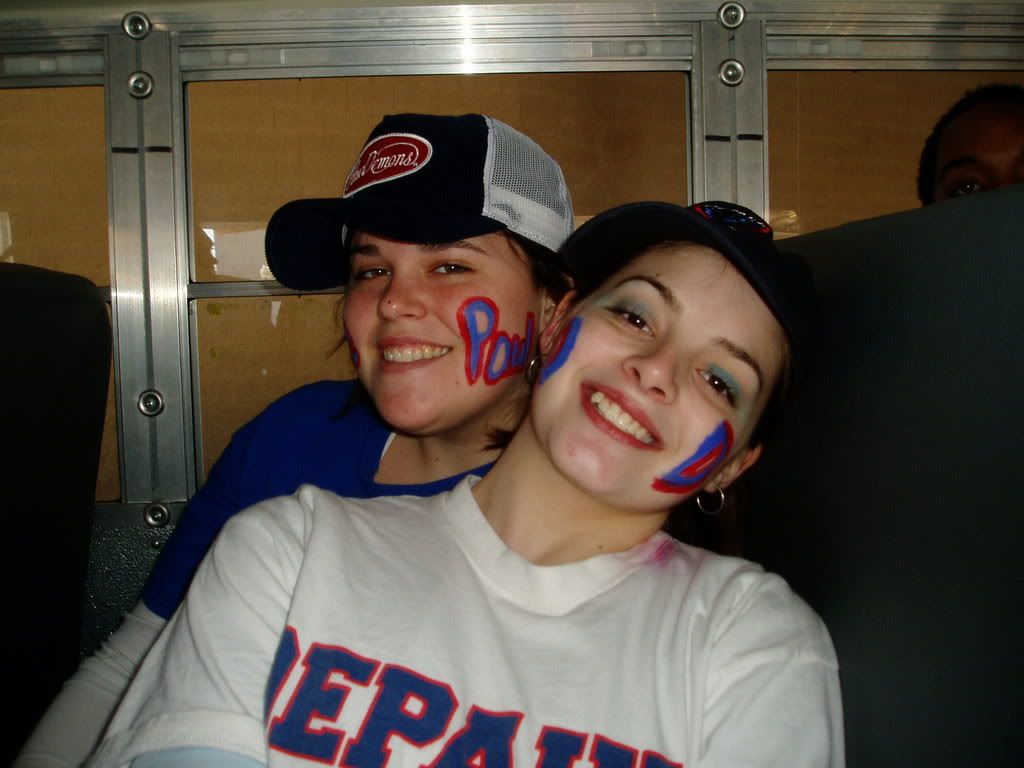 These DePaul fans are happy. Let's
hope it's not because they're going to
beat us.
Men's Soccer:
The men will take on DePaul in the opening round of the Big East Tournament on Thursday at a time TBA. With a win, the Huskies would move to the quarterfinals and face Rutgers on the road on Sunday at 1:00 PM. The Thursday game will be on WHUS. We just have to hope not to lose on Penalty Kicks again. Or at all. Let's not have another late season collapse, ok? Plain ridiculous how this happens every year. It shouldn't.
Football:
It's Syracuse gameweek, as the Huskies will host the Orange on Saturday at noon on ESPNU. Weather is to be sunny with a high of 49 degrees. Better than October snow. The Huskies are 3-5 and desparately need a win in order to go to a bowl. Syracuse is 5-3 overall and 1-2 in Big East games.
Do these oranges intimidate you? No.
Nor should they. We can b
eat the Orange.
Field Hockey:
The #4 ranked Huskies will play Louisville in a Big East Tournament semifinal on Friday afternoon at 12:30. You can see that game on
BigEast.tv
. The winner will face the winner of Syracuse-Villanova, which will be played at 3:00. The championship will be Sunday at 1:00. All games can be seen on
Bigeast.tv
. Also, the Huskies are ranked #4 in the RPI. Hopefully, this means we can get a national seed in the Tournament and host a regional. That would give us a huge boost towards the Final Four. But let's focus on this tournament first. Syracuse essentially has home field advantage, but we had it last year and the Orange beat us in the final. Let's get revenge.
Finally time for Hoops! Yay!
Men's Basketball:
The exhibition opener vs. American International is tomorrow night at 7:30 PM on Huskies All-Access and WTIC-1080. The Huskies obliterated the Yellow Jackets last year and should do so this year too. But it's nice to see players in game action for the first time. Plus we get to see the walk-ons for the only time. And Jim Calhoun gets to laugh at his
alma mattter
when he beats them.
Women's Basketball:
Not to be outdone, the women will host Assumption on Thursday night, also at 7:30 PM. Can we "bounce back" from our "poor" Final Four season and win another championship? Well it starts in two days...
Men's Ice Hockey:
Not much to report since the Army game on Sunday was postponed. It will be on February 7th at 7:05 PM. That's a Tuesday and the only other Husky contest is when the women's hoops team heads to Louisville. The Huskies will travel to Mercyhurst this Friday and Saturday night. Both games start at 7:05 PM. Let's hope the long layover between games doesn't hurt our hot streak.
Women's Ice Hockey:
The Huskies look for their second win of the season as they face Northeastern on Saturday afternoon at 4:00. That game will be on Huskies All-Access.